Deleting the build plan in bamboo
You have to click on edit build plan and then you will see Actions button. In actions, you will see Delete plan link as shown in below image. Once deleted, you will not be able to get it back. So be careful before deleting a build plan.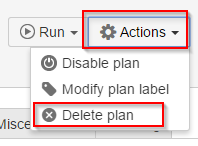 Web development and Automation testing

solutions delivered!!